Can we grow spinach without seeds? Why not? Yes, you can grow spinach without seeds too. Want to know how? Here's the complete guide on how to grow spinach and harvest.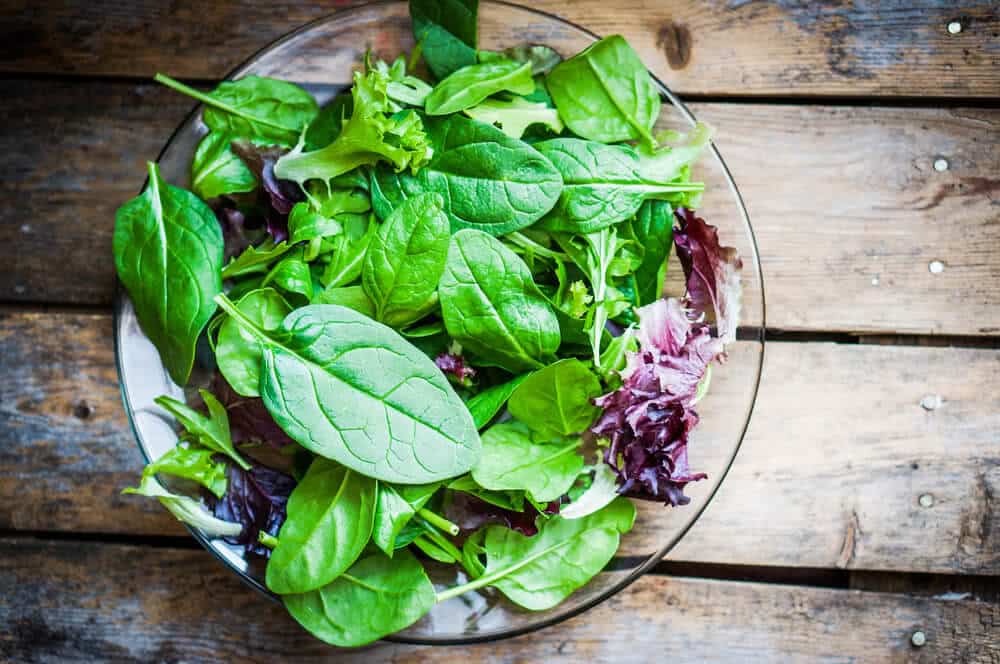 Growing spinach is a lot of fun as you can grow it in so many ways. Spinach is a green leafy vegetable and considers a superfood, as it loads with vital nutrients like Vitamin A, C, K, and carotene.
It is rich in iron and anti-oxidants. It can be consumed as a raw leaf and also cooked. Many gardeners love to grow spinach in their garden area to get fresh spinach all the time.
Since this is a cold-weather crop, the best time to grow Spinach is spring when the temperature is moderate. During summer, it usually turns into the seed you can grow later.
If you too love to grow spinach, here are some of the best ways to grow spinach without seeds. Let's deep dive into the post and follow these exciting ways to grow spinach.
Not only spinach but there are also various microgreens that you can easily start growing in your home garden.
Check the guide on how to grow microgreens.
Types of Spinach
Yes, there are many types of Spinach that you can grow in the garden areas.
Some of these are: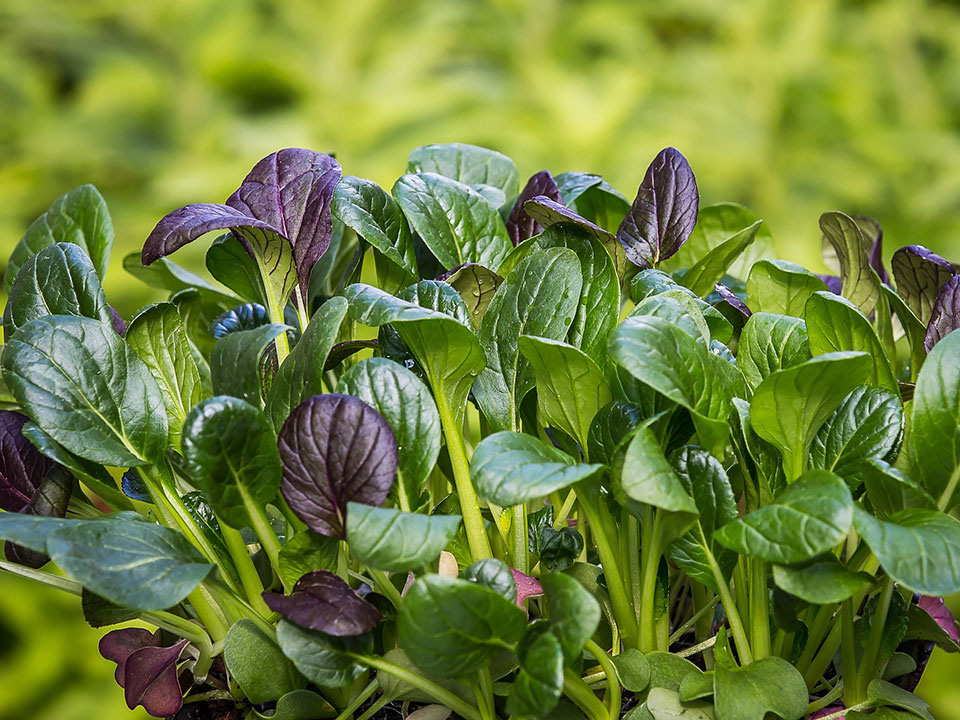 1. Savoy Spinach
Savoy spinach has a different type of texture and flavors. This has curly and wrinkled leaves.
It has a slightly bitter taste, so people prefer to eat it cooked instead of raw.
2. Semi-Savoy Spinach
Semi-savoy spinach resembles savoy spinach but goes in a straight pattern. It has a similar crisp texture and is less wrinkled than savoy spinach.
This would be an excellent choice to grow in the garden area as it resists disease. Besides that, it is highly nutritious and rich in Omega-3-fatty acid, Vitamin A, C, and E.
3. Bloomsdale Spinach
This has a thick leaf and is slightly juicy. It can grow very well during the cold season and the early summers.
4. Regiment Spinach
This is a hybrid variety and has broad & thick leaves. It is straightforward to grow, and its leaf remains soft and crunchy during harvesting time.
It can be grown within 37 days to grow and quickly promote seedlings.
5. Tyee Spinach
Tyee Spinach is also famous and has dark green leaves. It is a member of the semi-savoy spinach and can be consumed in cooked and raw forms.
It is less crumbly in comparison to the savoy Spinach.
6. Catalina Spinach
It is also known as baby leaf spinach and has an oval shape. This spinach form can grow in all cooler months and take 37 to 40 days to grow the spinach.
The bright green leaves can be sustained in light frost and even summer shade. It has a delicious taste and can be consumed as a salad. Cataline is widely grown in gardens.
7. Smooth Leafy Spinach
As the name suggests, Spinach leaves are smooth and easy to clean. It has flat-shaped leaves and takes acute time to grow.
Smooth leafy spinach is slightly tender and rich in flavors. However, it takes a long time to grow compared to other forms of leaves.
8. Indian Summer Spinach
Indian summer has dark green leaves and is very easy to grow.
The leaves are 10-12 inches long, and the ideal time to grow this spinach form is the spring and fall seasons. Within 40 days, it reaches maturity and can be harvested easily.
9. Space Spinach
Space spinach grows in moist soil rich in nutrients. Like another spinach form, it can grow in the cold season.
But the spinach cannot tolerate the pH, so you need to maintain the optimum pH range between 6.5-7.5.
10. Red Carnival Spinach
Like the name indicates red carnival, there are red veins in the leaves. It grows rapidly and needs to be cut when young.
11. Malabar Spinach
Malabar spinach requires summer heat to grow and has a trailless climb. With this, it can easily grow and reach the maximum height.
Have you always considered eating pumpkin seeds? Well, you can check this article to know how to eat pumpkin seeds.
How to Plant Spinach
Spinach is a cold-season crop that requires frosts and cold weather to grow ideally.
Besides that, it requires nutrient-rich soil, moist condition, and partial sunlight. It doesn't grow in acidic soil and grows ideal in pH ranges of 6.3-6.8.
Additionally, gardeners need to apply quick lime to the soil. If growing spinach is not favorable, go for the soil test and enrich the soil with vital nutrients.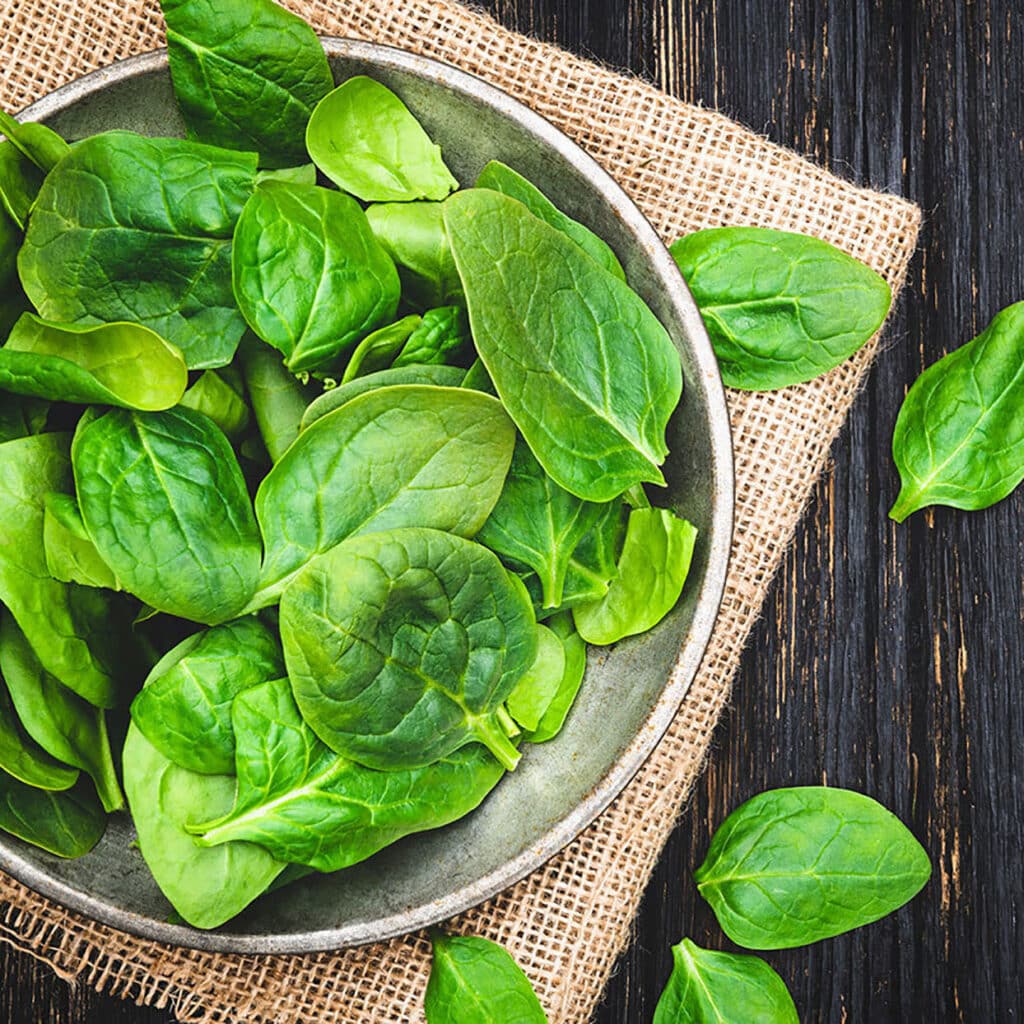 Spinach doesn't grow in standing water, so the soil must be dried completely.
The soil must be rich in nitrogen and calcium. Before planting, you need to ensure that the soil is rich in essential nutrients and slightly alkaline pH.
Also, avoid over-drying the soil and maintain the ideal condition for the optimum growth of all kinds of spinach. Find soil and other requirements to grow vegetables at home in this post.
Want to know soil preparation for planting in pots? Find out how to prepare the soil for planting in pots.
How to Grow Spinach
Spinach can be grown without seed with a vegetative method known as cutting.
This means you can sow the leaf cuttings of the spinach directly into the garden soil in the spring season.
With this method, you can grow spinach successively and enjoy spinach in any season. You can grow money plants as well without seeds or by a cutting method known as propagation.
Also, most of the big indoor leaf plants' compilation can be started through the propagation method.
However, you need to follow a stepwise guide to grow spinach without seed with this method which is as follows:
1. Prepare Your Pot/Garden
Before you start cutting the spinach leaves, make sure to prepare the sowing bed for the plant. You can prepare a pot or the garden area.
If you are taking the pot, make sure it is 16 inches or deeper than this. Moreover, you can choose any form of the container as you like. To begin with, fill the garden soil, and do not forget to mix manure into the soil.
If you want nutrient-rich soil, you can add vegetable leaves, thick sand, and other ingredients. Loosen the soil to plant the leaves into the pot easily.
2. Cut Fresh Leaves and Plant
Now, take the spinach and ensure it is fresh and has roots in it. Avoid the spinach leaves that are damaged or already cut. Take the leaves and cut them halfway.
Retain the part of the roots and stems. Now make a hole into the pot or garden soil. Keep in mind that the hole is bigger enough to accommodate the roots into it.
Repeat the process with other leaves, but leave at least three to five inches of space between each hole.
3. Water Gently
Once you finish with the planting, pour some water into the soil. Keep the soil moist but do not overload it with water.
Spinach is a leafy vegetable and doesn't need much water and sunlight.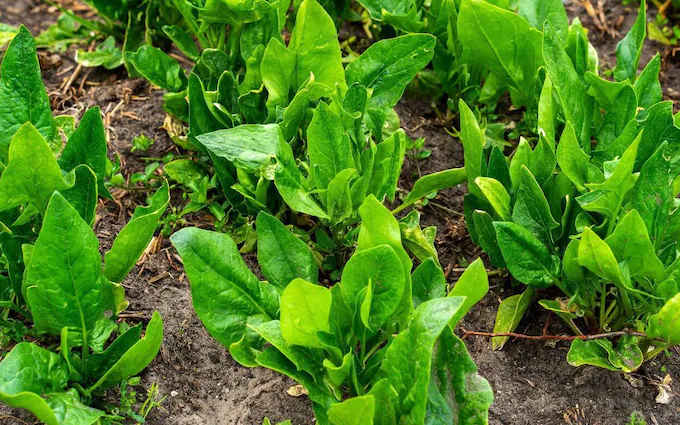 So, you can keep the pot in a dry area and make sure to keep it in sunlight for at least two to six hours a day. It would be enough for the spinach to grow optimally.
And that's how you can grow spinach without seeds. You would see the results typically in two to four weeks.
Do You Need Fertilizer to Grow Spinach
Spinach is a short-term growing plant, so it doesn't require much fertilizer. However, for optimum growth, you need to apply nitrogen fertilizer as it helps to grow the leaves properly.
You can add nitrogen after every two weeks. Nitrogen enrichment is also helpful to promote the healthy condition after harvesting.
Moreover, you can add natural manure of around half a cup into the 10 feet row of the soil.
Sprinkle it into the base and ensure to pour water immediately after applying the nutrients to the soil. Do not overload the soil after manuring as it may disturb the pH of the soil.
Love Brinjal? Grow brinjal plants in your home garden with ease by reading our article.
Also, the compilation best eggplant companion will help you to grow it more healthy.
How to Water Spinach
Spinach needs moisture constantly. It has a taproot that goes down into the soil to get the water. However, the rest roots of the spinach need to get water.
So, moisten the soil but avoid overloading as little moisture would be ideal for the optimum growth of the spinach. An inch of water would be great for the spinach.
Ensure to follow the slow dripping method so that the soil retains the moisture properly. When the weather is warmer, make sure to water the plants regularly to avoid drying the soil.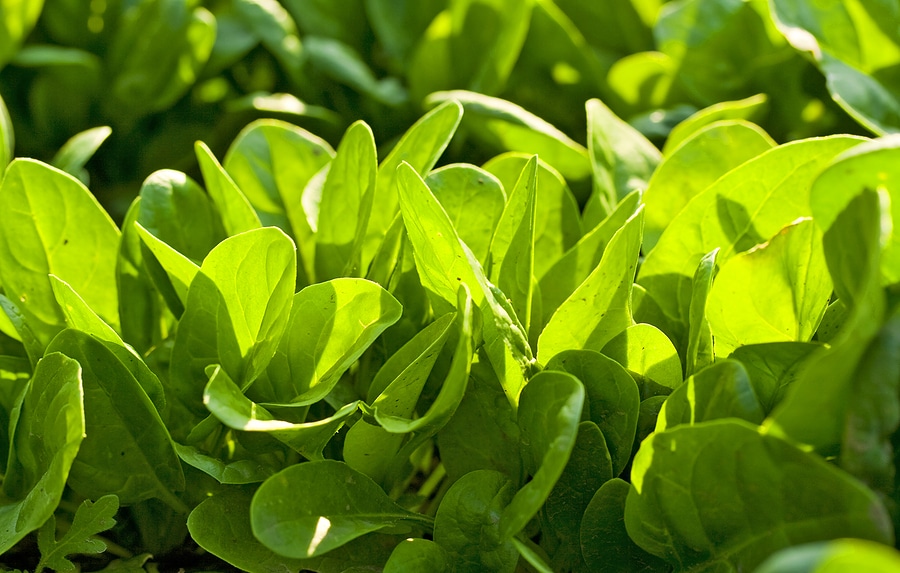 When to Harvest Spinach
Spinach will take only 40-50 days to grow and mature. An individual can determine better how to harvest the leaves and when they need to harvest.
The ideal time to cut the leaves is when the leaves mature completely. To cut the leaves, make sure to pick the outer part and leave the roots of the leaves.
This will help to grow the leaves again from the root. You don't need to sow the seeds again to grow. Make sure to harvest the crop when it is ready, and the leaves are green and fleshy.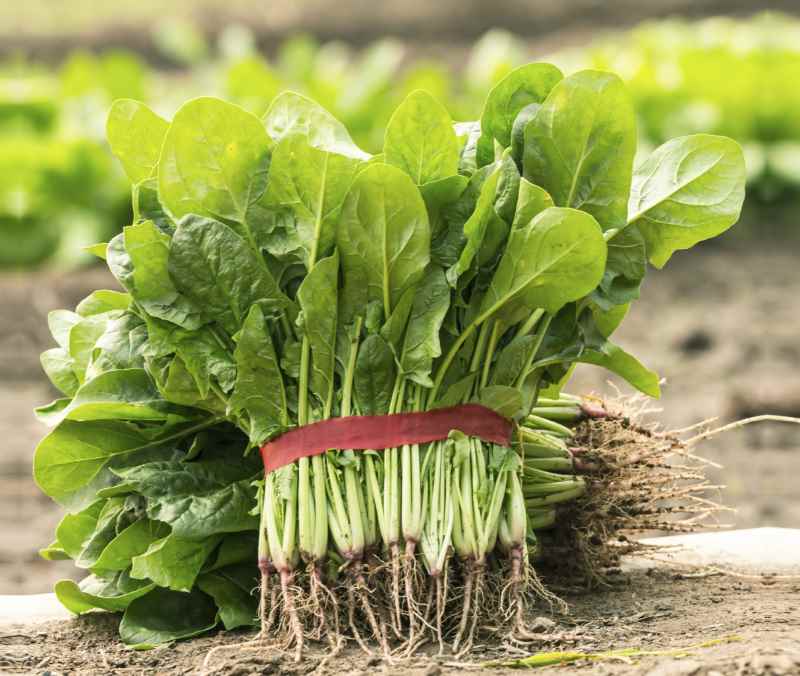 After cutting the spinach, ensure to store it in the cool or refrigerated areas. This will help avoid post-harvest loss and keep the spinach fresh for a longer time.
Ensure to wash the leaves before storing them to avoid the microbial attack. In this way, you will keep the spinach for a longer time.
Also Read: How to Grow Broccoli?
How to Control Pests
There are many diseases, such as downy mildew and fungal disease, which can affect the spinach and spoil it. Late blight disease can also affect plant growth.
Mostly the aphids eat the spinach leaves. Some other insects, such as caterpillars, include cabbage looper, and others spoil the Spinach.
So, timely you can apply pesticide and insecticide to kill the pest and protect the crop.
Moreover, you can also choose the biological method to control the pest attack and protect the crop from post-harvest loss. You can also use organic pesticides. This will help to control the pest attack.
Will you Grow Spinach
So, here is the best way to grow spinach without seeds. However, you need to ensure that the plant requires an ideal temperature and the best fertile soil. Hence, if you need to maintain the ideal growth, then supply nutrients daily and water the plant regularly.
Apart from this, you can avoid growing in the summer season as it can affect the plant's growth. It may affect the growth and fade the leaf's color. Keep it in the shade and avoid sunlight for long.
Apply fertilizers only if the spinach and do not keep the crop standing for longer and harvest it as soon as it matures to avoid post-harvest loss.
If you still have any confusion to help you grow spinach without seeds, do mention us in the comments section below. We will help you for sure.
---
FAQs
When should spinach need to be planted?

The spinach can be planted during the winter season and spring seasons. It requires a cold region and frost for the ideal growth. 

Where do I plant spinach in the sun or shade?

Plant spinach doesn't require much sunlight. It requires shade so you can grow in any place.

However, keep in mind that keep them under the sunlight for at least 2-6 hours for optimum plant growth. 

Can spinach plants grow well in pots?

Spinach plants grow well in the pot. You can grow it in any pot, even in your garden areas. However, make sure it is at least 16 inches deep. 

What temperature range can spinach tolerate?

It can tolerate a temperature around 10–15-degree Celcius. However, it grows well in the 0–10-degree temperature range and tolerates even the lowest temperature range. 

How many hours of sunlight does spinach need?

The ideal range of the sunlight must be 2-4 hours does spinach. Avoid keeping the spinach under the light for more than 8 hours.