Can we eat pumpkin leaves? Yes, why not! Pumpkin is a delicious vegetable, but the pumpkin leaves are more delicious and nutritious.
There are so many ways to eat pumpkin leaves, but some prefer to eat cooked leaves. You can even cook delicious dishes with the pumpkin leaves.
So, from now on, if you are growing a pumpkin in your garden, do not throw away the leaves; cut them off and make some tasty recipes with these pumpkin leaves.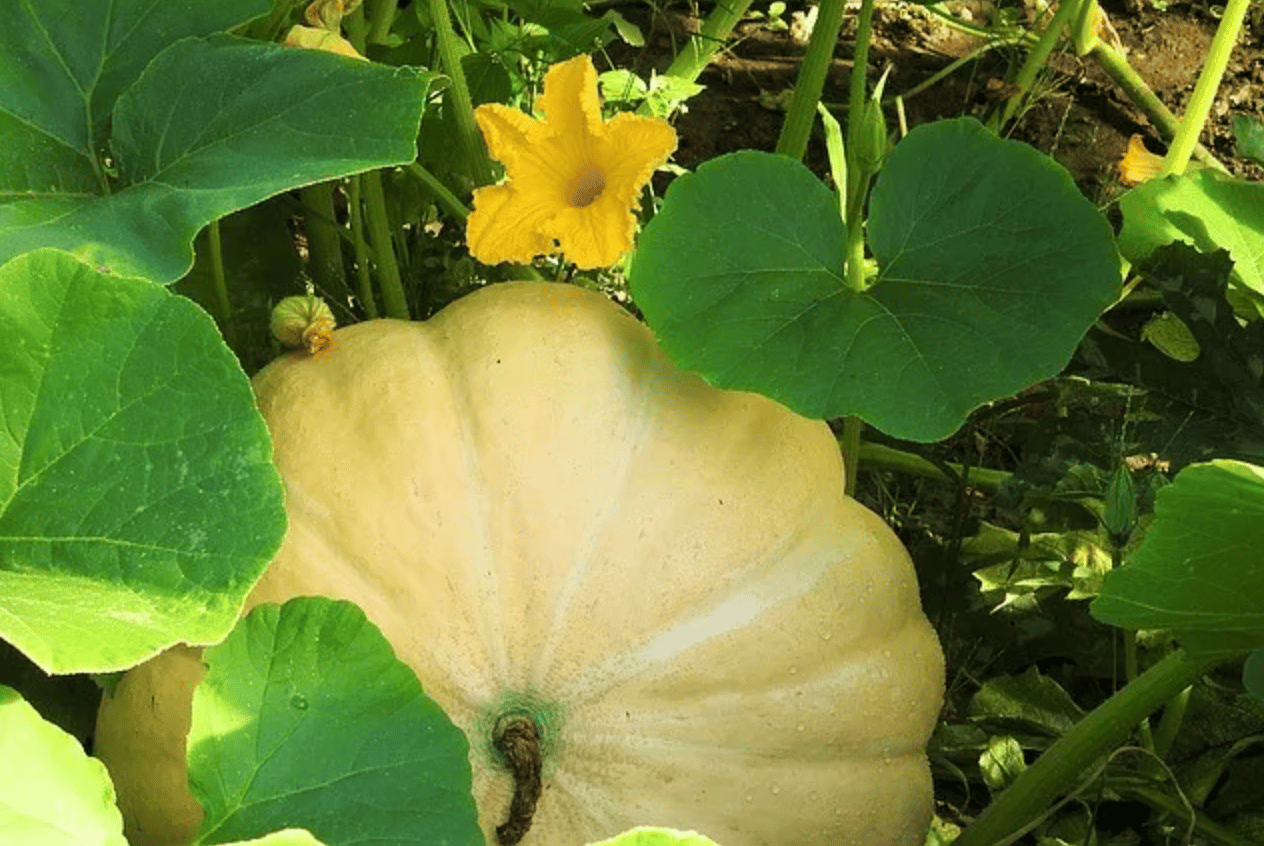 In this blog, we'll discuss the harvesting of leaves, delicious recipes, the nutritional level of the pumpkin leaves, and a lot more facts.
So, let's get started and find out some awesome facts about the leaves of the pumpkin tree.
Do you get confused when someone asks is a garlic vegetable or a herb? Well, we have answered this difficult question. Do read is a garlic vegetable?
Are Pumpkin Leaves Edible
Yes, You can Eat Pumpkin Leaves
If you are a green lover, pumpkin leaves are great to add to your eating menu.
The leaves are round and fleshy and have tiny spikes on the leaf surface. Before you consume them, do ensure to remove those spikes with the help of a knife.
The best thing about pumpkin leaves is they are available to you all season. So, you get abundant leaves throughout the year.
The leaves not only add an aesthetic look to your garden spaces but also help to add nutrition to your plate. Moreover, you can cook many delicious recipes with pumpkin leaves.
Also Read: How to Grow Vegetables at Home
Benefits of Pumpkin Leaves
Pumpkin leaves are highly nutritious just like microgreens; this is why they are edible. The pumpkin leaves are rich in Vitamin A and Vitamin C.
Hence, including pumpkin leaves in the diet can benefit healthy and glowing skin. In addition to this, leaves are also loaded with iron and calcium, promoting healthy teeth and strong bones.
Iron helps in improving heart health and strengthening your immune system. In addition to this, leaves have an excellent amount of fiber which is good for digestive health.
In simple terms, pumpkin is genuinely nutritious and serves you various health benefits. So, if you want to add something nutritious and a dash of green to your plate, pumpkin leaves would be a great addition.
You can also grow another nutritional-rich vegetable at home, i.e. spinach. Read our guide on how to grow spinach at home.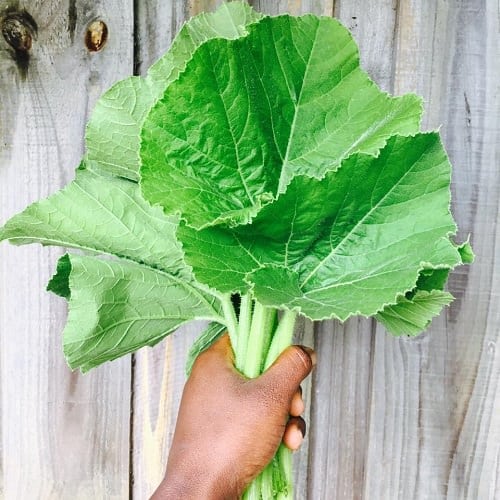 Are Pumpkin Leaves Tasty
Yes, pumpkin leaves are super tasty and taste like green vegetables such as broccoli, spinach, and other form of green vegetables.
The leaves are rich in flavor and good to eat. In other words, if you are getting bored with Spinach and other green vegetables, you can try pumpkin leaves sometimes.
How to Harvest Pumpkin Leaves
Pumpkin leaves are easy to harvest. However, you need to be sure to harvest them at the right time or when it is entirely green. But the best time to harvest the pumpkin leaves is when they grow only to the size of your palm or hand.
Moreover, you can even harvest the leaves when the pumpkin is growing. This means you can harvest leaves multiple times while the pumpkin is growing. Be careful while harvesting, and always choose small leaves in an alternative fashion.
Do not cut the vine completely. The reason behind this is that a vine can help to grow new leaves. This way, you will be able to harvest more leaves in one season.
This is all about harvesting pumpkin leaves. Ensuring all these factors while harvesting makes sure you have healthy and green leaves for your dishes.
Also Read: How to Grow Plum Tomatoes
Primary Treatment for Pumpkin Leaves Before Eating
Primary treatment is essential to make the leaves edible because pumpkin leaves are not edible at first glance because of spikes.
Therefore, before consuming them, you need to remove these spikes with a sharp knife. This may be a time-consuming process, but the process helps to make the leaves edible, and you can cook the leaves as you want.
Before you start cutting, leave, make sure to cut the outer layer, hold the leaf in your hand and turn the leaf downward. The stem of the leaves is mostly fibrous and hollow from the inside.
You can easily cut them with your nails. Now, peel off the strands and leaf back. Ensure to obliterate the fibrous material from the stem and leaf of the pumpkin.
Also Read: How to Grow Potatoes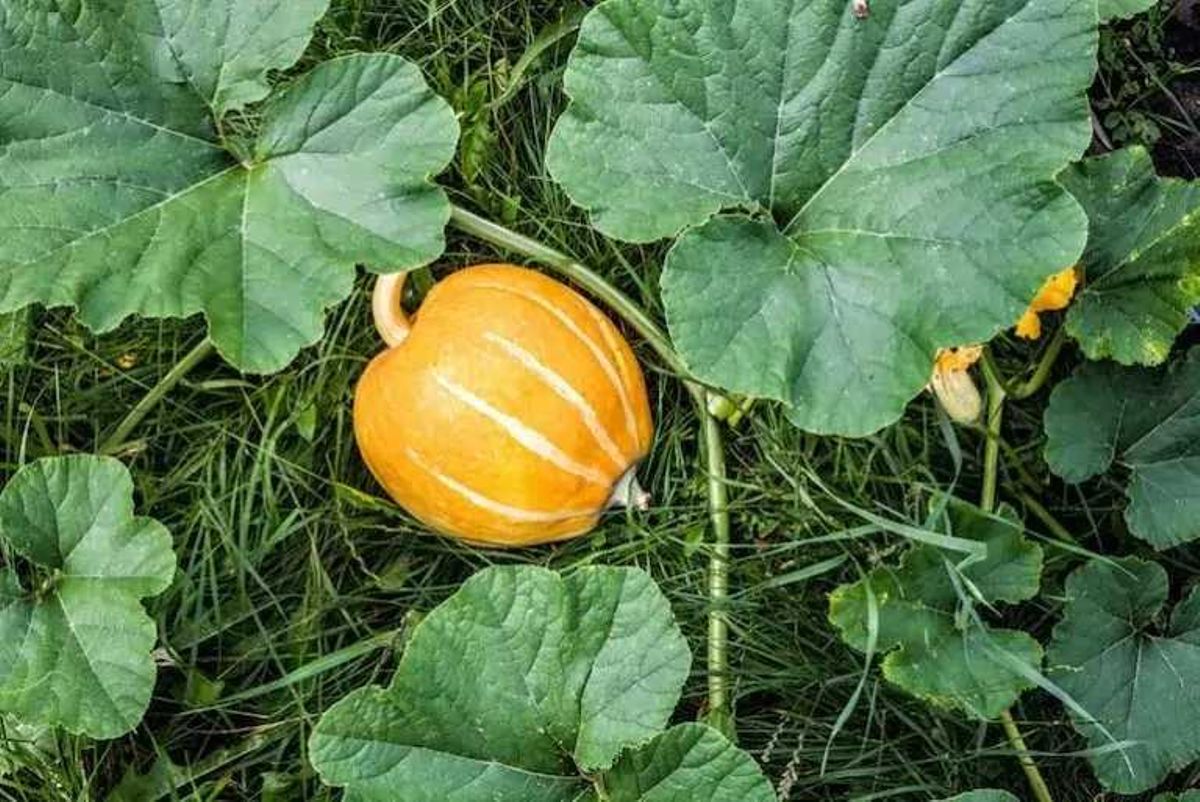 How to Cook Pumpkin Leaves
Pumpkin leaves are best to add to your side dish and toppings. Keep in mind that pumpkin leaves shrink when you boil them. Hence, it would help if you use a larger pile of leaves to have enough leaves.
Due to their delicious taste, you can use them to substitute other green leafy vegetables as we mentioned above as well.
However, you can first cook them simply by sautéing them in the oil and topping them on your pasta dish. Adding mince of garlic and lemon juice can enhance the taste of pasta with pumpkin leaves.
Adding parmesan cheese can give a delicious flavor to the pasta. Whenever you are cooking anything with pumpkin leaves, do ensure to boil them or sauté them in the oil.
How to Grow Pumpkin Leaves
This question is compulsory when we are talking about the pumpkin leaves. We are sure you must be wondering if growing a pumpkin tree will help you to grow leaves as well. But this section is more about growing tips for pumpkin leaves.
So, without any further adieu, find out some valuable tips that help you grow pumpkin leaves.
Growing techniques are similar to those of green leafy vegetables. Make sure to cultivate them when the sun is shining with full potential.
Do ensure to give them complete protection from heavy winds and frost conditions. During frost, the speed of growth reduces, and chances are their plants get damage

d.
Cover the leaves with a tarp whenever you observe heavy winds and rain. This helps to protect the leaves from damage

.
Be sure that the soil is well-drained and planted in highly nutritious soil

.
Supply plenty of water during the growing season, and you will have healthy pumpkins and leaves

.
Farmers sometimes get worried about the leaves and offshoots to ensure adequate nutrition for the pumpkin plant during the growing stage

.
Ensure to harvest the leaves at the earliest otherwise; the leaves get bitter when they grow to the fullest

.
These are some of the growing tips that will help you to have a crop of healthy leaves. These tips will ensure that you not only have great leaves but big giant pumpkins as well.
Are you interested in growing pumpkins in your home garden? If yes is your answer, you should check out our article giving all the best tips on how to grow pumpkins in your garden.
Recipes for Pumpkin Leaves
So, now you know about the taste, nutrient level, and other things of pumpkin leaves.
It's time to write down some of the best recipes you can prepare using pumpkin leaves. Let's have a look and prepare delicious recipes.
These recipes are so simple that even a non-cooking person can make them without scratching their heads. Have a look!
1. Pumpkin Leaves Soup
This delicious soup can be prepared with blanched leaves of the pumpkin and is highly nutritious. It can be served as a main dish and a side dish. You can also experiment with different ingredients.
2. Pumpkin Leaves Thoran
A form of soup made with pumpkin leaves and tomatoes. Simmer techniques are used to prepare this dish.
3. Kumro Pata Torkari
This is a form of vegetable curry made with pumpkin leaves.
4. Stir-Fried Pumpkin Stems
This can be prepared with pumpkin leaves and peanut sauces. You can also prepare it with coconut curries and other things to make them super delicious.
Did you like these recipe ideas? Will you be trying at your home? Do let us know and if you know any other recipe ideas, share those with us as well.
Pumpkin Leaves are Healthy
So, this is all about pumpkin leaves and everything related to it.
Pumpkin leaves are nutritious and can be a better alternative to green leafy vegetables. The best thing about this is you can have these leaves throughout and season and may cultivate them multiple times.
However, do ensure to harvest when the leaves are young. Remove spikes before you eat them or before preparing delicious recipes.
Would you grow pumpkin in your home and include the leaves in your food habits? We would love to know the answer to this question!
---
FAQs
How long does it take to grow leaves in a pumpkin tree?

It takes around a week when you see the first sprout break from the earth. These leaves will continue to grow for more weeks.

Why are my pumpkin leaves wilting?

It may be due to lack of water leaves of pumpkin tree starts wilting. Ensure proper thorough watering and at regular intervals.

Are pumpkin leaves nutritious?

Yes, the leaves of pumpkin have Vitamin A and C with iron and an adequate amount of fiber that makes it a great substitute for green leafy vegetables.